RICOH THETA X brings 11K image with 60 megapixels, 5.7K video, color touchscreen, removable storage and battery, internal GPS
The new RICOH THETA X is the perfect 360 camera for businesses that take pictures and video for real estate and scenes with good lighting.
Unique Technology Features
The RICOH THETA X is the only THETA camera with these features at the time of blog publication:
11K high resolution image
5.7K @ 30fps high resolution video
2.25 inch color touchscreen on camera body – 360×640
removable battery (DB-110)
removable storage card
GPS inside the camera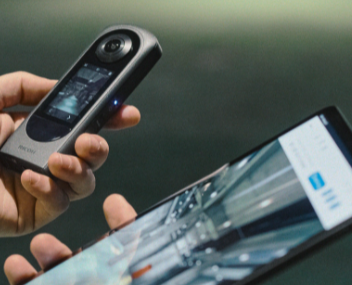 Unique Features
ability to install plug-ins direct from the camera
ability to upgrade firmware direct from camera
exposure compensation and white balance adjustment for live streaming
The RICOH THETA X takes still images at 11008×5504 and video at a resolution of 5760×2880 at 30 frames per second.
The new camera has a 2.25-inch color touchscreen on the camera body which helps with standalone use and should help us take some amazing shots without having to always connect to a mobile phone and use the mobile apps.
The new RICOH THETA X has a removable microSDXC card and battery. These are very common requests by many people in the .guide community. Although existing THETA cameras have very good transfer speeds to mobile phones or over a USB cable, the ability to transfer thousands of photos on a microSDXC card can improve many workflows. For example, if you need to capture video at a construction site, using microSD cards to transfer the video could speed up the workflow.
Although many companies use THETA cameras with external batteries, the ability to replace batteries in the field could open up new types of streamlined workflows that don't rely on external equipment.
The DB-110 is the same battery in the RICOH THETA V. See this video for a community tear-down and unofficial replacement of the DB-110 with Li-92B batteries with 1500mAh.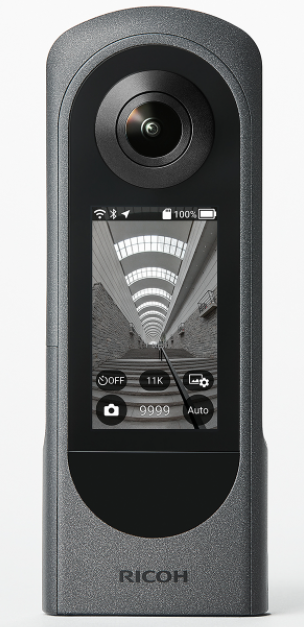 RICOH THETA X High Resolution is Great for Real Estate
The new camera has a 1 / 2.0" image sensor that can take 11K pictures at approximately 60 megapixels.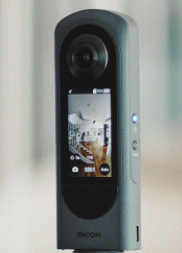 This makes it excellent for real estate and travel shots where there is good lighting. If there is low lighting, such as at a construction site, people may want to try different settings to reduce image noise.
RICOH THETA X Plug-in Development
The announcement indicates that the new camera runs Android OS and will allow third-party developers to release plug-ins for the camera. This is very exciting because the ability to control plug-ins from the OLED touchscreen is a huge advantage for plug-in applications.
The camera also allows the installation of plug-ins directly from the camera. Similar to a mobile phone, the THETA X can connect to your worksite router and get plug-ins directly.
The V and the Z1 used versions of Android 7.x on Qualcomm Snapdragon architectures. See our blog posts on detailed Z1 technical specifications and using Vysor for plug-in development.
RICOH THETA X USB API
Although the announcement doesn't specifically state that the THETA X will work with the USB API, all the recent THETA models support the USB API. I suspect that the THETA X will also support it. See our article on the USB API for development tips we've organized for existing RICOH THETA models.
Web API
We will test the THETA X API and compare it to the Z1 and SC2 API support. Previously, we produced an article on SC2 WebAPI Differences.
RICOH THETA X Firmware Update
The firmware can be updated directly from the camera using Client Mode Wi-Fi access. Previous models required use of the official RICOH THETA mobile or desktop applications to update the camera firmware.
More Information
The team at theta360.guide will perform extensive testing of the RICOH THETA X and compare it to the THETA Z1 and the V. We'll publish these test results in the future. If you have any questions about the RICOH THETA X or requests for tests, please post them below in the comments. If you are unable to post comments, send an email to info@oppkey.com
Subscribe
You can subscribe to updates to our blog by going to community.theta360.guide. Once you're signed up, you can change the preferences on your email notifications and only subscribe to certain topics such as the blog.
Pricing and Availability
TechRadar reports that THETA X will be available for $799 from March.
Specifications