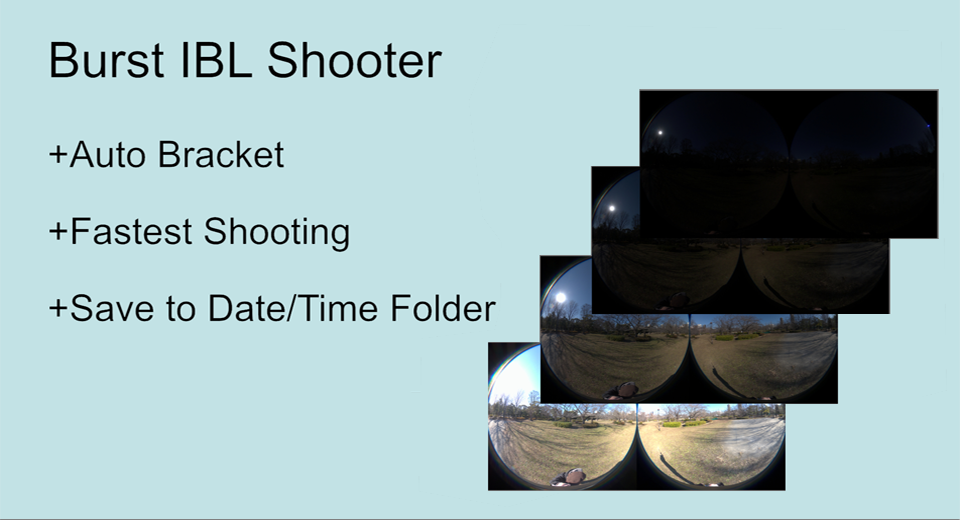 Create HDRI from 360 Images
You can take a series of photos using a THETA which can be stitched together with your favorite software to create a high-dynamic-range image in HDR or EXR format. This image can then be used as a source of lighting and reflection data for a 3D scene. You can create HDRI from 360 images.
Taking the photos used to create an HDRI image is often done using the official RICOH THETA mobile app. It can be configured to take a series of bracketed images. The Z1 model allows you to use RAW format to capture even more lighting information. JPEG is not supported.
However, time on a set may be limited. You, the VFX person, needs to take your images and get out of the way of the filming crew. For this, CGSLAB, a well-known VFX firm in Japan, has created a THETA plug-in called Burst-IBL-Shooter. This means you install a small program (plug-in) in your THETA, and can take a series of images without connecting to a smartphone.
Main Features of the Burst-IBL-Shooter by CGSLAB
7 images are taken in ±3EV steps based on a -5EV offset from the auto exposure
Allows you to shoot a bracketed shot in less than a second to create an IBL (HDRI) for use in VFX
Can be used in almost any lighting environment without any settings. Bracketing can be done correctly from dark indoor to bright outdoor.
In bright environments, handheld shooting is possible
Only RAW data (DNG) can be saved
The images are stored in the Burst_IBL_Shooter folder, which is divided into folders by date and time
Remote shooting is possible with the corresponding Bluetooth Remote Control when used with the official remote control plug-in
Support for self-timer is planned in a future update
The developer has stated that there are no plans to internally convert to HDRI due to quality and processing time issues. There are many free software programs available that will allow you to combine the images and create one HDRI image. You can create HDRI from 360 images. (Thanks to Fabian Christin for this list.)
This article shows how to use Luminance HDR to create an HDRI file and then import it into Autodesk Maya.
Conclusion
RICOH THETA 360 cameras are used widely in VFX to create HDRI files that quickly and accurately capture lighting information that can be used with CGI models, AR objects and more. CGSLAB has made the process even more easy-to-use. The plug-in is free and can be installed and configured within minutes.
More Resources to Create HDRI from 360 Images
Just in case…